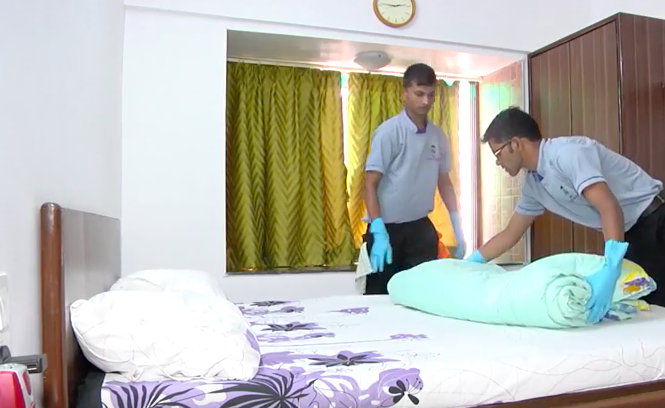 Get to know what happens in a home deep cleaning service by Hecqo !!
Brief
Deep Home Cleaning basically includes dusting, mopping, vacuuming, scrubbing, spotting, sanitization (wherever applicable) of Living room, Bedrooms, Bathrooms, Kitchen, Storages, Lofts, Balconies etc
Team
A team of trained experts will visit with a supervisor along with industry grade tools, equipments/machines, cleaning agents and disinfectants.
Tools
Our Pros' only use branded and tested tools & consumables for cleaning tasks. Cleaning agents by Diversey, Vacuum Machines, Scrubbing Machines etc
What we do
Deep cleaning of Bedrooms & Living room includes detailed cleaning of floors, Wall spotting, furniture & external cleaning of appliances.

Windows + grills are cleaned using a vacuum cleaner for channels & special cleaning agents for the glass.

Vacuuming of Sofa, Carpet & curtains , Dusting & cleaning of Fans, Lights, Switchboards, cabinets & Cobweb removal

Deep cleaning of Kitchen includes detailed cleaning of the storage cabinets, floor washing & disinfection, Kitchen tiles & Trolley.

Oil removal procedure is followed to clean the platform. Sink is scrubbed thoroughly, Cleaning of Fans & lights and cobwebs are removed.

Appliances like Refrigerator, Microwave, Toaster, Oven etc. are deep cleaned externally.

Deep Cleaning of washrooms include washing & sanitization of floors & tiles/all surfaces. Taps, Mirrors & other fixtures are cleaned in detail.

Special cleaning agents are used to clean Toilet pots that help in disinfecting it.
Time Taken
1 BHK - 4 to 6 Hrs.

2 BHK - 6 to 8 Hrs.

3 BHK - 6 to 8 Hrs
Visit https://www.hecqo.com or Download App https://bit.ly/2rV5foR to book now.

Happy Booking 11