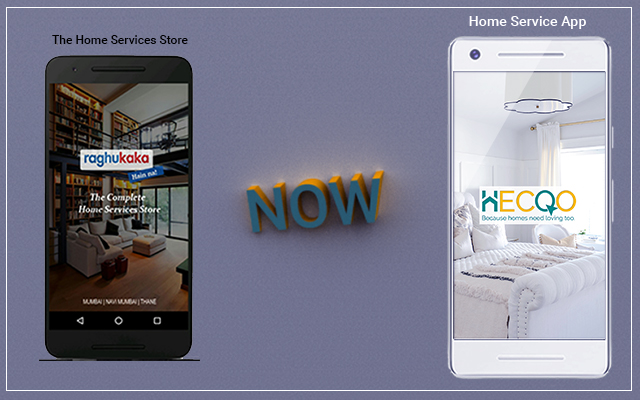 Ragukaka is no more ! HECQO is born
Tuesday 12th December 2017
Mumbai – 28th Nov 2017 – Raghukaka, a Mumbai based Home Services startup announced this week that the brand has officially changed its name to HECQO as of 28th Nov'17.
The new name would reflect the evolving focus and standards of the company, adding to the tech expertise, domain strengths & passion for service delivery.
Started in September 2015 by Vineet Pandey & Vishal Panchal as a matchmaking platform for users to connect with service providers, to fulfill their home service requirements, the brand has come a long way to be recognized as a household name in Mumbai, only because of the manner in which services are delivered. " Our strength is to recruit, train extensively & deploy professionals to seamlessly manage large commercial & residential premises," said Vineet Pandey – who also runs a successful Facility Management company (Kaarya Facilities & Services Ltd).
Taking a cue from there, Vineet & Vishal thought of extending the same expertise to customers in quest for home services through a network of service professionals across Mumbai, Navi Mumbai and Thane. In the process, today HECQO has a network of 250+ service professionals that includes carpenters, Electricians, Cleaning & hygiene professional, Appliance repair technicians and more. Recently the venture also launched its operations in Bangalore too.
"Coming from a Facilities background, we have a strong hold on quality, cost and execution skills. Keeping in mind the expectation of the Indian consumer, because of our background it is easier for us to extend rich quality services in the most cost effective manner to the consumers. Also, technology helps us to earn brownie points in service delivery.
When everything was going so well, what is the reason for the name change then? The success that we have achieved so far has given us the confidence to expand our boundaries further. We intend to extend our offerings nationally now. However, the name Raghukaka has more of a regional context. Also, we tried to understand from our loyal customers what does brand Raghukaka mean to them? To a lot of them it meant merely an attendant until they used our services. We thought this is a blocker for new customer acquisition. The name has to instil confidence in the minds of the consumer to experience our services atleast once. And then we are confident, once our customer, always our customer!, hence HECQO! " said Vishal Panchal.
Hecqo – which means "done" in Spanish, is your key to getting your home tasks completed, with the promise of 100% satisfaction guaranteed.
Additionally, Hecqo has adopted a new tagline : Because homes need loving too. The insight is, we deserve the best for us and our homes, which is our extension.